Who to Hire for your Maternity Photo Session
GTA Pregnancy Photographer Guide
When looking for a Maternity Photographer, there are many things to take into consideration. This guide will walk you through what to look for in a photographer and the questions to ask when hiring the right studio for your important session.
Firstly, what do you envision for your maternity photo shoot?
Do you picture a beautiful 'golden hour' sunset session, with your hair flowing in the wind in a beautiful long light gown cascading over long grasses. Something more revealing showcasing your maternal glow in-studio with the perfect lighting on your growing bump? Perhaps a mix? Or maybe even a more modern family session with your partner evoking intimacy in a form fitting dress?
Hiring a full-service photography studio can definitely open up doors to a realm of photographic possibilities. Lucy Literna specializes in all these types of sessions whether on-location across Toronto and the GTA or in-studio at Markham location or luxe rental studios. Lucy will recommend outdoor locations to fit your vision, or meet you at a location that's sentimental to you.
Great, so you've found the perfect studio, but now, what about the outfits?
How can you possibly find your perfect wardrobe and not break the bank? Hiring a photographer who specializes in Maternity Sessions is key. There are new style trends every season, and you want a studio who keeps up with changing fashion. But also focuses on a wardrobe that is also timeless. We want the focus to be on your maternity moment, not on outfits that will fall flat in a few years.
Here are some examples of gorgeous gowns, luxurious dresses and materials that Lucy Literna Photography offers in her Studio. Many of these styles are one-size-fits all to ensure that you have a perfect fit, so you don't have to do all the extra work scouring to find something that will fit you during your session. Not only is this entire maternity wardrobe available to clients, but Lucy has a trained eye to ensure you choose the best attire to look your best during your session.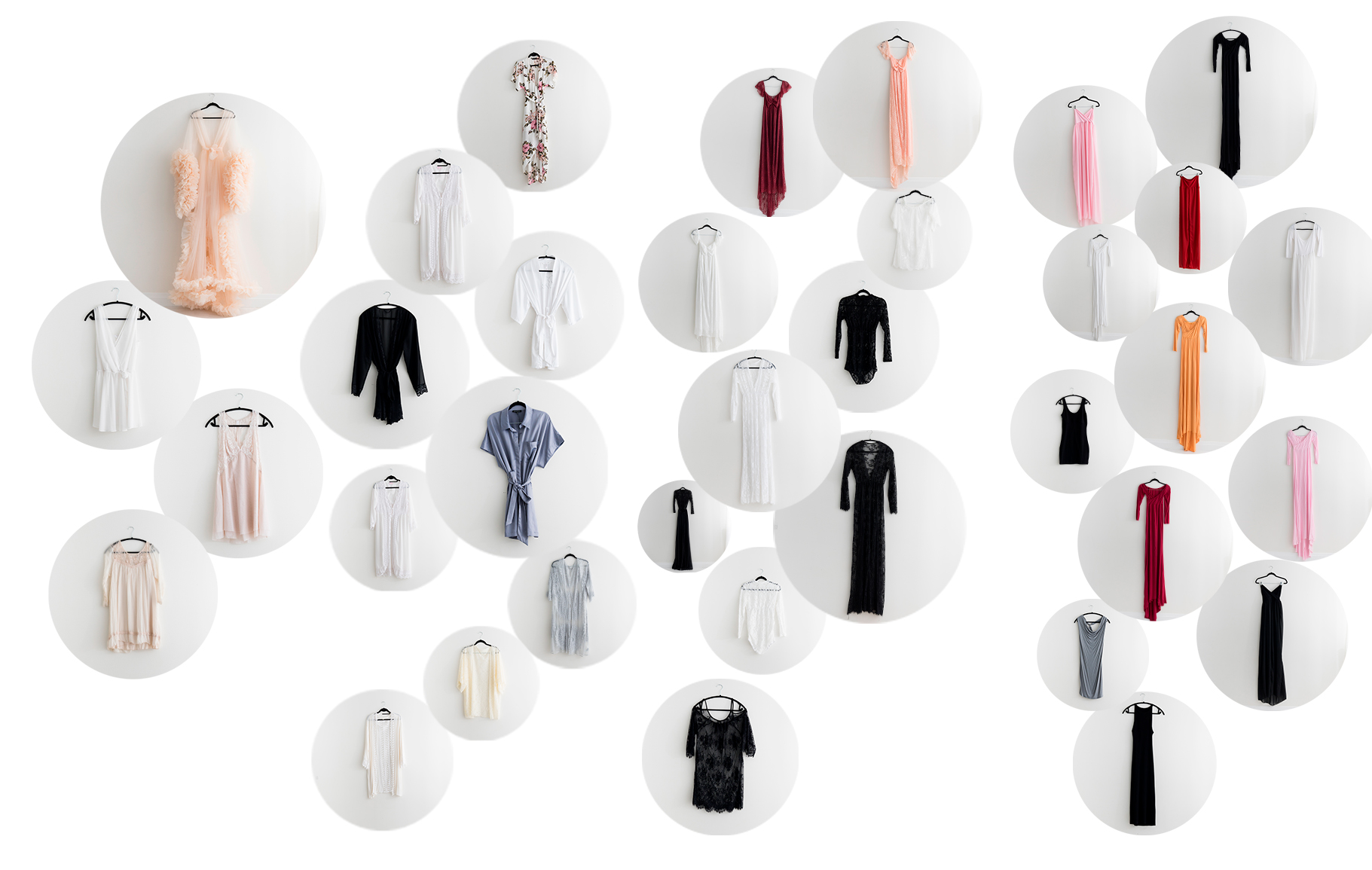 Okay, full-service studio, wardrobe… what else is there to consider in a maternity session?
Your Make-Up Artist and Hair Stylist! Is that really necessary? Without a doubt, yes! Listen, this is your day to shine. Maybe you've already felt super radiant throughout your pregnancy, and maybe you haven't, but having your make-up and hair professionally done will always help bring out even more confidence, and that shows on camera. If you're not already set up with your own MUA and Stylist, we have our own dream team that will come in and work with you right in the comfort of our studio.
I'm all made up, I'm looking gorgeous at your studio – how do I pose during my session?
We thought you'd ask that. Lucy is trained with almost two decades of experience in posing people to look their best. This is not one-size-fits-all, either! Along with an assistant to make sure even each strand of hair is perfectly in place, Lucy gently guides you into poses that are more natural, or completely glam – whatever the direction your dream session takes you. There's great emphasis on having fun, while feeling gorgeous on set. It's an entire experience. Lucy will even lead your partner to feel and look their best.
As you can see, hiring a Pregnancy Photographer isn't a small decision, and there's a lot of factors to take into consideration. Lucy Literna offers a full service studio, with a vast assortment of gowns, and looks to bring your Maternity Photo Session to life. A Photography Session with Lucy is foremost fun, a luxury experience leaving you feeling your beautiful self with only the most stunning photos to remember this momentous time in your life.
Maternity Photo sessions take place during pregnancy weeks 30-35, and are booked about 2 months in advance. Contact us to reserve your session.